Xingtera
Thermal cameras for access control and fight against Covid-19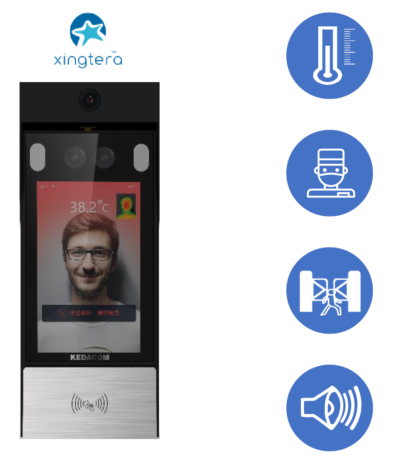 Body temperature measurement.
Measurement accuracy of 0.5 ° C.
Recognition of up to 20,000 faces by integrated A.I.
Wide range of applications : can be used on gates, metal security barriers and other devices
Audio alarm, 5 inch LCD touch screen, built-in speaker and microphone
Xingtera offers an access control and body temperature detection system based on Qualcomm technology. With a Network Video Recorder (NVR) based on Intel technologies, the system can recognize up to 20,000 faces (and /or NFC cards) and simultaneously check their temperature.
Embedded Artificial Intelligence helps to prevent false alarms such as those caused by a cup filled with hot coffee, for example. It has an accuracy of 0.5 ° C at a maximum distance of 0.80 m. The system incorporates a 5 inch LCD touch screen, speaker and microphone.
The system can be deployed stand-alone or integrated into a larger access control system, providing you with the technological building blocks of facial recognition coupled with body temperature measurement.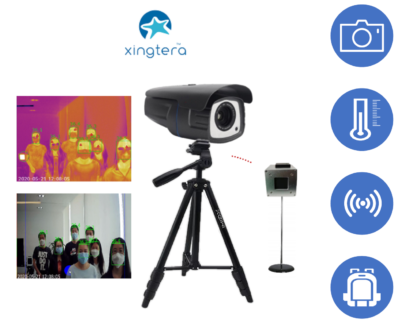 Visual + thermal camera :
 – Visual : 1920 x 1080
 – Thermal : 384 x 288
High accuracy :
 – accuracyn : ≤ ± 0,3 ℃ (Black Box calibration)
 – Distance : 3 to 10 m
Work station in option :
 – Intel Core I5
 – 1TB Hard Drive Disk
 – 17 inches Display
Easy to deploy :
 – Suitcase
 – Tripod
 – Temperature detection software
In addition to the standalone camera, Xingtera offers a body temperature detection camera for the crowd. It allows you to control the temperature of individual up to 12 people simultaneously.
Equipped with a user-friendly and easy-to-use user interface, the system allows measurements with a precision up to 0.3 ° C and from a distance of 3m. The camera has two sensors, one visual and one thermal, which provides operator comfort. Finally, the system comes with a black box for temperature calibration, a tripod for the camera and, optionally, a computer for the management and operation of the system.