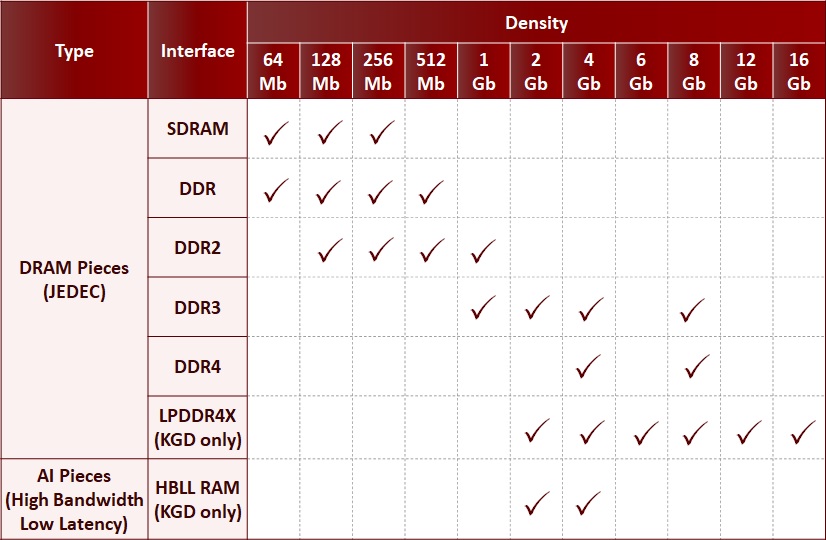 PieceMakers, manufacturer of DRAM memory.
Based in Taiwan, designer of their chips, they have a strong technological expertise of their components and an ability to offer competitive prices.
Fabless, PieceMakers has set up production partnerships with foundries enabling them to ensure large production volumes.
Obviously, the same capacities for the assembly and test have been established in order to guarantee the production flow.
Why PieceMakers manufacturer ?
PieceMakers offers a wide range of DRAMs, ranging from mature technologies such as SDRAM, DDR and DDR2 with long lifetimes, to innovative technologies such as HBLL (High Bandwidth Low Latency), HiBaLL-RAM and PIM-DDR3.
PieceMakers has also an offer with the lowest cost on the most widely used technologies which are DDR3.
SDRAM, DDR, DDR2 and DDR3 are available in packages and in KGD. For DDR4 and HBLLs, they are only offered in KGD.
PieceMakers has extensive experience in KGD and works with the major players in the semiconductors market.
They will support you in integrating their memory into your component.
PieceMakers is ISO 9001 and ISO 14001 certified
TERRITORIES COVERED & ROLE OF I.C.Rep
I.C.Rep represents and distributes PieceMakers in France and more generally in Europe.
We can also cover EMEA.