X-PHY
World's First Embedded AI Cyber Secure SSD protected against cyber and physical attacks including ransomware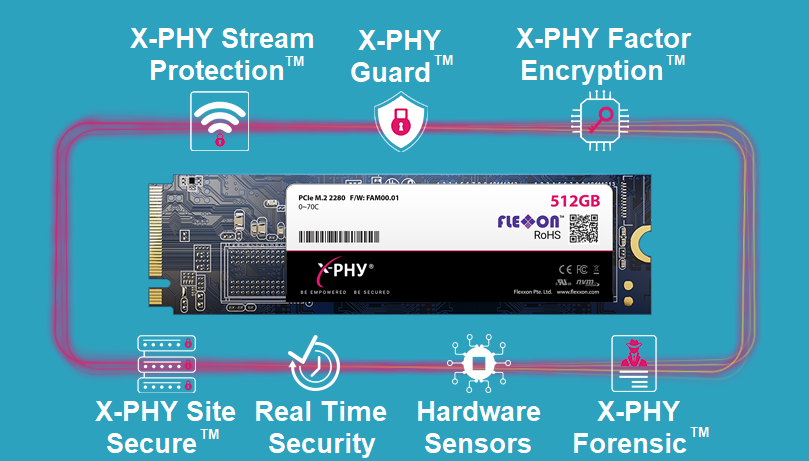 CC EAL 2+ certification in progress
X-PHY Stream ProtectionTM
Signal communication security.
X-PHY GuardTM
Data protection from malware, ransomware, viruses etc.
X-PHY Factor EncryptionTM
Authentication and security key protection.
X-PHY Site SecrureTM
Physical protection.
Real Time Security
Silicon level protection.
Hardware Sensors
Physical protection.
X-PHY ForensicTM
AI agent surveillance.
X-PHY, more than an SSD, an innovation in terms of cybersecurity.
At the forefront of cybersecurity technologies, Flexxon offers the world's 1st SSD embedding Artificial Intelligence to protect against cyber attacks, whether known or unknown.
Based on a strategy of monitoring and real-time detection of the behavior of the SSD, the A.I. reacts immediately to an anomaly, blocking the attack before it can compromise or block your data.
This innovation of detecting cyber attacks by monitoring the behavior of the SSD allows the X-PHY to detect those which are known of course, but also those which are unknown. This capability is a real advance in terms of protection against digital threats because it addresses the shortcomings of other individual or network protections such as anti-viruses, which have a detection strategy based on threat signatures. 
In addition to fighting against cyber attacks, the X-PHY has a whole system of protection against physical attacks. Equipped with sensors and a detection module managed by Artificial Intelligence, it will protect your data, whether your equipment is lost, stolen or someone tries to remove it.
What positioning then for the X-PHY?
The X-PHY finds its place in the cyberattack protection arsenal as the last line of defense for the protection of your data. It is not there to replace your anti-virus but to provide you with a final protection that will prevent the attack from succeeding.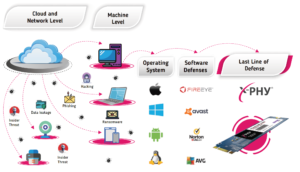 Product details :
M.2 2280 and U.2 formats
Flash NAND 3D
512MB – 1TB ( and more to come)
Compliant with NVMe 3.1
Compatible with PCIe Gen 3×4
LDPC (Low-Density Parity Check) of ECC algorithm
Dynamic and Static Wear Leveling
Support SMART and TRIM commands
Power Loss Protection Algorithm
Windows and Linux drivers available
Resellers, computer repairers, join us!
Are you looking for an innovative, differentiating product that will strengthen ties with your customers? Become a reseller and installer of X-PHY! Whether you are addressing the individual, the professional or the SME / SMI, the X-PHY will bring an important asset to your product catalog.
Contact us via our email address info@icrep.fr